The Study Area
The 'Study Area' is defined in the map below and covers the core Seven Dials Conservation Area in Camden and the southern part of the Covent Garden Conservation Area with the borough boundary shown in blue. The Seven Dials area in Camden is mostly small scale with many of the late 17th century houses remaining, whilst the Westminster side is dominated by the massive ex-brewery buildings, part of the Mercers' estate since 1531.
Whilst the two areas are subject to the different planning and licensing policies of the two local authorities, the Study seeks to harmonise approaches to the public realm – both lighting and the treatment of streets, some of which has already been achieved. It also deals with managing the public realm and potential conflicts of interest between different stakeholder groups.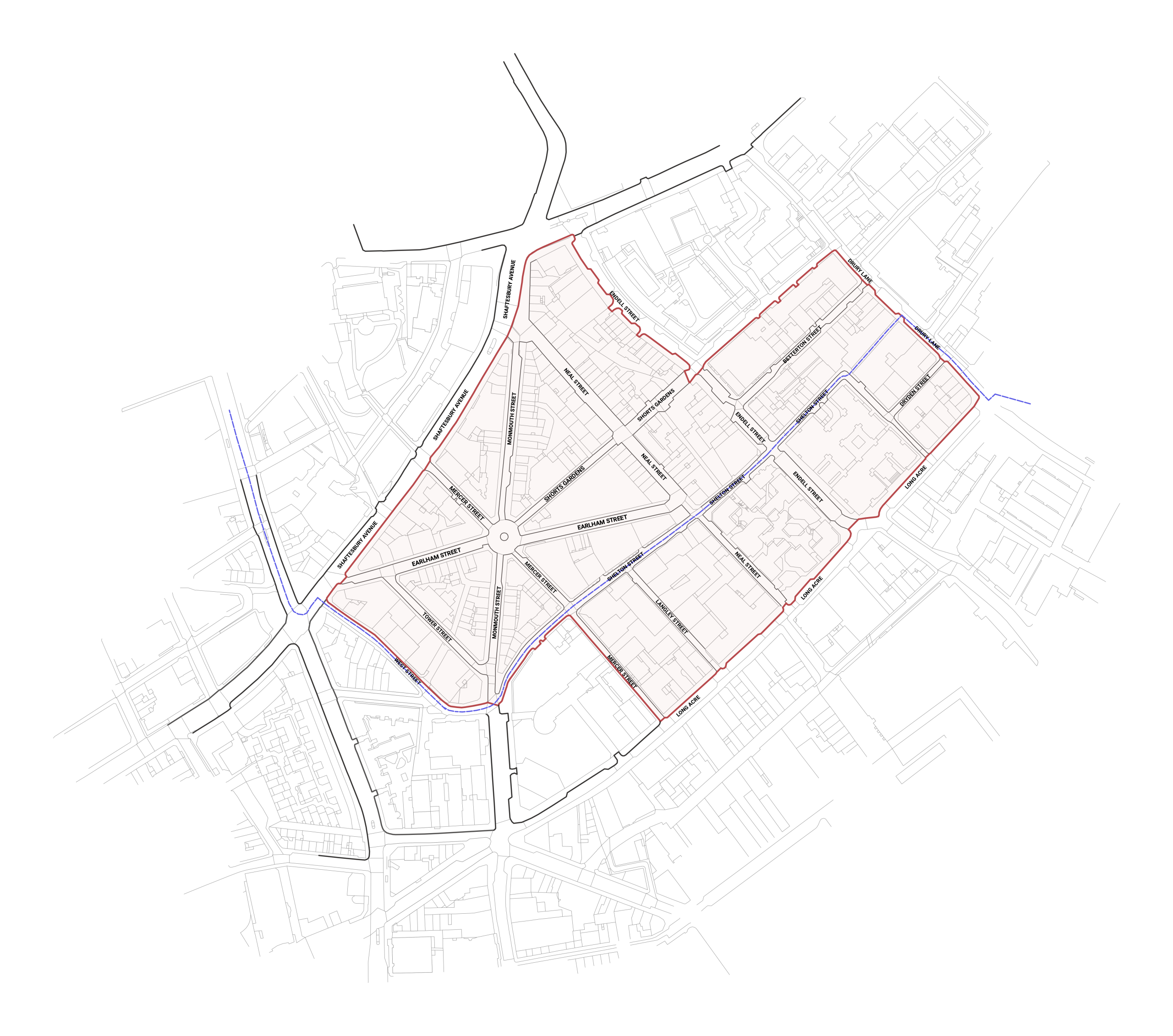 Structure of the Site
The site is organised into four principal sections.
This section sets out the Study's key principles and objectives, the particular characteristics of the Study Area, a short history, the planning and licensing policies of Camden and Westminster, and relevant national policies.
This section sets out the approach for harmonising the public realm in an historic area that also needs to work for the aspirations of people in the 21st century. It analyses the existing streetscape and proposes a uniform approach suited to the formal historic layout of the core Seven Dials Conservation Area and the adjacent Covent Garden Conservation Area.
Building Maintenance and Improvement
Building, Maintenance and Improvement comprises a series of specifications with advice for the treatment of key elements of the buildings in the two conservation areas, such as brickwork, shopfronts, door and window joinery, signs and paintwork, set out A-Z. Each section here is a summary dealing with key features. There are links to more detailed information where available.
This section sets out the principles for the treatment and improvement of buildings and groups of buildings in the Study Area based on an analysis of the historic fabric, the evolution of the area and an analysis of each building. It gives guidance to freeholders and occupants on ways of improving their buildings so as to enhance their historic character and that of the conservation areas as a whole and make the streets more attractive. Attention is drawn to typical features which might form specific models for restoration work to other buildings in the conservation areas. It can be navigated via the interactive map which brings up streetscapes with historic images where available.
Previous Editions
The first edition of the Seven Dials Renaissance Study was published in 1990 to national accolades, funded by the Kleinwort Benson Property Fund, who voluntarily increased their s52 from £100K to £450K to implement its recommendations. Following a congratulatory debate in the House of Lords It was revised and republished as the second edition in 1997-8, funded by the Department for Culture, Media and Sport at their request, and the Foundation for Sports and the Arts as a national exemplar.
This digitised, third edition retains the basic format originally devised by Peter Heath, and has been substantially revised and extended.
Study Team
This study was produced by a multidisciplinary team together with in-house input. It was organised by Trust chairman David Bieda and coordinator Kathy Pimlott.
This web edition of the Seven Dials Renaissance Study retains the basic format originally devised by Peter Heath BSc Arch; Bachelor of Architecture Architects Registration Board, RIBA, Dip Town Planning, RTPI; Academy of Urbanism, and retains some earlier material written by him. New and revised text was written by Patrick Baty FRSA; Chris Mason retired Architect/Town Planner; Dr John Martin Robinson MA; D.Litt; D.Phil. FSA; Paul Velluet BA Hons, B. Arch Hons, M Litt, RIBA, IHBC; Richard Shepherd RIBA (formerly AA Conservation Head); Barry Smith BA (Hons), MA, MRTPI (Retired) and Dr Meredith Whitten, MSc Regional and Urban Planning Master of Public Affairs and a Bachelor of Journalism, Fellow in Environment, LSE.
The contemporary architectural photography in the Building by Building section is by Guy Archard, who generously halved his fee. Most of the historical architectural images are from the London Metropolitan Archives, who waived their reproduction licence fees. Additional historical images are from other sources as credited. Additional contemporary images of architectural details are by Alan Simpson and others.
The axonometric diagram of Neal's Yard was designed pro bono by DSDHA.
A special thanks to Owen Ward, co-chair of the Bloomsbury Conservation Areas Advisory Committee, who radically redeveloped this website into its current format, and contributed photographs, diagrams, text, and continuing advice on the overall format and presentation of this web study. The original site was designed by Radford Wallis and built by Hyperlink Media, with additional design and modification by Tattersall, Hammarling & Silk.
In house: David Kaner (Covent Garden Community Association) assisted with Licensing; and David Bieda (Trust chairman) and Kathy Pimlott (coordinator) spent much time on the study and have both lived in the West End for more than fifty years; and technical assistance and guidance provided by trustee Jamal Uddin MIET FRSA.
Financial Contributions
The Trustees thank all those below whose support made this project possible.
Donations in Memory of the late Francis Golding
Almacantar: £9,650
TIAA Henderson: £7,350
British Land: £5,000
Southern Properties Group: £3,500
Rogers Stirk Harbour & Partners Trust: £3,000
Stanhope PLC: £1,250
Alford Hall Monaghan Morris: £1,000
Kieran Timberlake (USA): £1,000
Millar Hare: £750
Rafael Vinoly Architects (USA): £600
Donations of £500 each from Publica; Walters & Cohen; Christina Smith; M3 Consulting; Fletcher Priest Ach Ch Trust; and Silver Family Ch Trust: £3,000
Donations of £250 each from Simon Harris; Doris Lockhart; Piercey & Co; Rolf Judd Planning; and Squire & Partners: £1,250
ZGF Architects (USA): £140
Individuals' donations including Gift Aid: £1,160
Other donations
The Mercers' Company: £15,000
Charles Hayward Foundation: £3,800
Guy Archard Charity discount: £3,800
Foyle Foundation: £3,000
Shaftesbury Plc: £3,000
WCC St James's Ward Budget: £1,500
Patrick Baty, pro bono historic paint adviser.
Owen Ward, pro bono architectural and conservation advisor
Response to Earlier Versions
The RIBA
'It… deserves national acclaim. The project represents an outstanding example of local initiative harnessing the efforts of the local community as well as the private/public sectors and other funding bodies…'
Secretary of State for Culture Media & Sport
'The Study deals with the problems facing historic area with a high level of economic activity… its aim is to set out a coherent approach for the maintenance and enhancement of complex city areas as an example for others to follow.'
Minister of State for the Environment
'… I believe the charity has done a remarkably good job.'
Assessors for the 1999 Camden Environmental Design Awards
'… an extraordinary piece of work…'
The Civic Trust
'… the Study and resulting material will serve as a national exemplar for other conservation area enhancement programmes.'
The Kleinwort Benson Property Fund.
'The results are tremendous, and I believe may act as a model for other areas showing the way forward to community based conservation projects… The Property Fund is committed to spend £100,000 on environmental improvements and I am pleased to tell you that we are currently considering a substantial increase in his amount to more completely realise the Study's purpose…'
The Fund voluntarily increased their planning agreement from £100,000 to £450,000 to implement the recommendations for Earlham Street, Shorts Gardens and the Dials.
English Heritage
'… this is the first time an holistic approach has been adopted to provide a detailed framework for the development of the total environment of an historic district of London… for this reason it could act as a model for other historic areas across the country…'
The RTPI
'I cannot think of any study which could immediately form an enhancement policy for the area, which has been so thorough… if the proposals for Seven Dials were carried out they would lead to a national show-piece and something to which many could turn as a source for guidance.'
London Borough of Camden.
'I write to congratulate the Seven Dials Monument Charity… this initiative… is a first for Camden and I believe for possibly for Greater London… It seems the financing of a Study by local interests can produce a degree of discussion on issues affecting the character and appearance of an area, and a commitment to proposals for enhancement, which the received wisdom of the Local Authority preparing proposals for consultation, will not match.'
Jonathan Lane CEO Shaftesbury PLC 2006
'We still have your Study here which has been our "Bible" since our first investments in Seven Dials over 12 years ago.'
Tom Welton, Director, Shaftesbury PLC.
'As the area's major freeholder we are pleased to part of this ongoing partnership. We have invested in a major programme of façade improvements using the 'Seven Dials Renaissance Study' recommendations as our guidelines and have made substantial donations to the Trust towards street and lighting improvements. We are delighted with the results in Monmouth Street which has been transformed to the benefit of residents, business and visitors alike. We look forward to our continuing involvement in further improvements to the area and congratulate both the Trust and Camden Council for their long term commitment to this exemplary project.'
Contact Details
The Seven Dials Trust
68 Dean Street
London W1D 4QJ
Tel: 020 7437 5512
Email: [email protected]
Website: sevendials.com