From as far back as the late 1950s, Seven Dials was mostly planned for demolition under the Greater London Council's plans for Covent Garden. Details of these can be seen on the Seven Dials Trust's exhibition. Ironically it subsequently became one of only 38 'Conservation Areas with Outstanding Status' out of c 6,000 conservation areas in England. At the end of the very successful Seven Dials Housing Action Area (1977-1984) Camden's chief executive asked us to set up an organisation to reconstruct the missing Sundial Pillar and promote environmental improvements. This and the previous studies follow Mr Nickson's request and for many years Camden worked with the Trust to achieve Camden's request.
This study sets out a coherent long term vision for the maintenance and improvement of the totality of the built heritage in parts of two of England's key conservation areas, Seven Dials and Covent Garden. It follows the long Covent Garden tradition of regeneration through active conservation of the built heritage in high density mixed use conservation areas, and provides practical advice for both professionals and laypeople. The Trust has no vested or financial interest and our aim is to benefit all stakeholders, residents, businesses and the area's many visitors from all over the world.
As the Secretary of State for Culture Media and Sport wrote in the previous edition, "Its aim is to set out a coherent approach for the maintenance and enhancement of complex historic areas, as an example for others to follow. It deals with the problems facing an historic area with a high level of economic activity." Within the core Seven Dials conservation area it sets out ways of harmonising the streets in this unique formal townscape, the only such area in London remaining from late Stuart England.
It eschews the current tendency in the West End of treating and marketing historic areas as 'brands'. Its proposals are rooted and built on the area's history and have influenced enhancements throughout Covent Garden. The long process of urban regeneration began with the Trust's reconstruction of the Sundial Pillar which helped reinvent a lost neighbourhood in our city centre.
This digital edition was made possible by our many financial supporters, a multi-disciplinary team, input from our trustees and from long-standing local residents. Its success hitherto has hinged on cooperation between the voluntary, statutory and private sectors. The past versions led to similar studies by the Covent Garden Area Trust and the St James's Conservation Trust. Our trustees thank our outstanding multi-disciplinary team and all those whose financial contributions have made this web study possible. We hope it will continue to guide the maintenance and improvements of these much loved Conservation Areas in our city centre.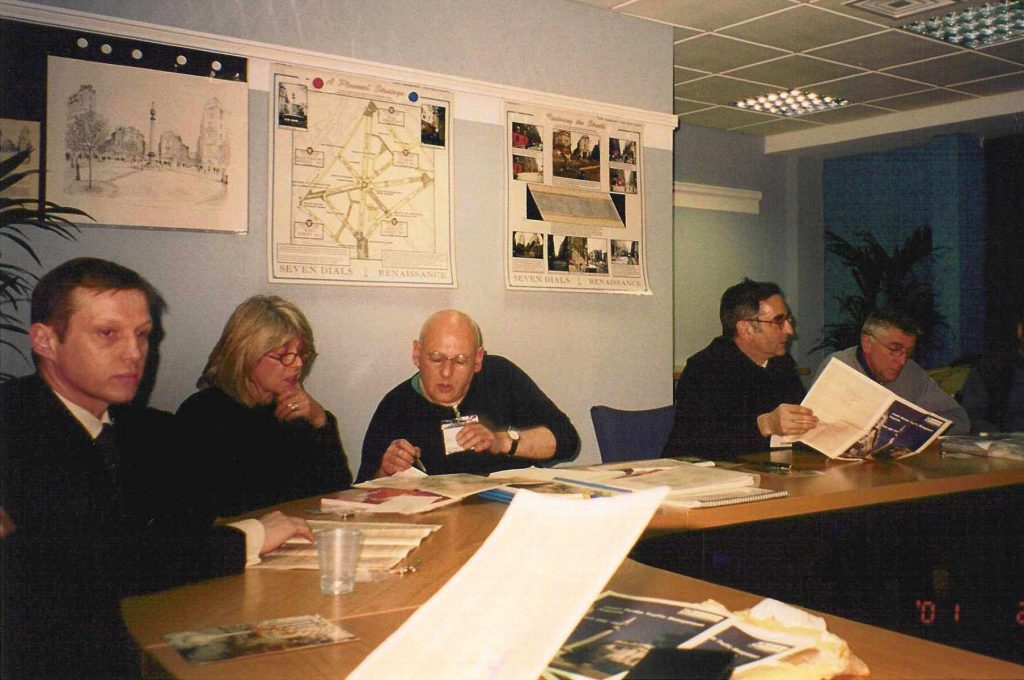 The study is dedicated to the memory of trustee Francis Golding (1944-2013), who chaired our Environment committee.
David Bieda – Chairman, the Seven Dials Trust