It is not enough to protect an historic building from demolition or unsuitable alteration. They need a sustained programme of continuous care to protect the integrity of roofs, walls and windows. The principal rule in maintaining an old building is to tackle problems before they cause serious damage which is expensive to repair. It is easier and cheaper to mend a broken downpipe than to remedy an outbreak of dry or wet rot on window frames. Regular examination of a building for defects is strongly recommended. In a damp country like England the prime concern should be to keep a building weather-proof and watertight.
Roof and Rainwater Disposal
Gutters and downpipes keep a building in good condition by taking rainwater away safely. If they become blocked or broken, damage to the building can quickly occur and, if left unchecked, lead to expensive remedial work. It is vital that gutters are checked and cleaned every six months, preferably after the autumn leaves have fallen and in the early summer. Drainage channels and flat roofs also need to be kept clear. While clearing gutters, a check should be made of the roof tiles or slates to ensure that none have slipped, and to replace those that have.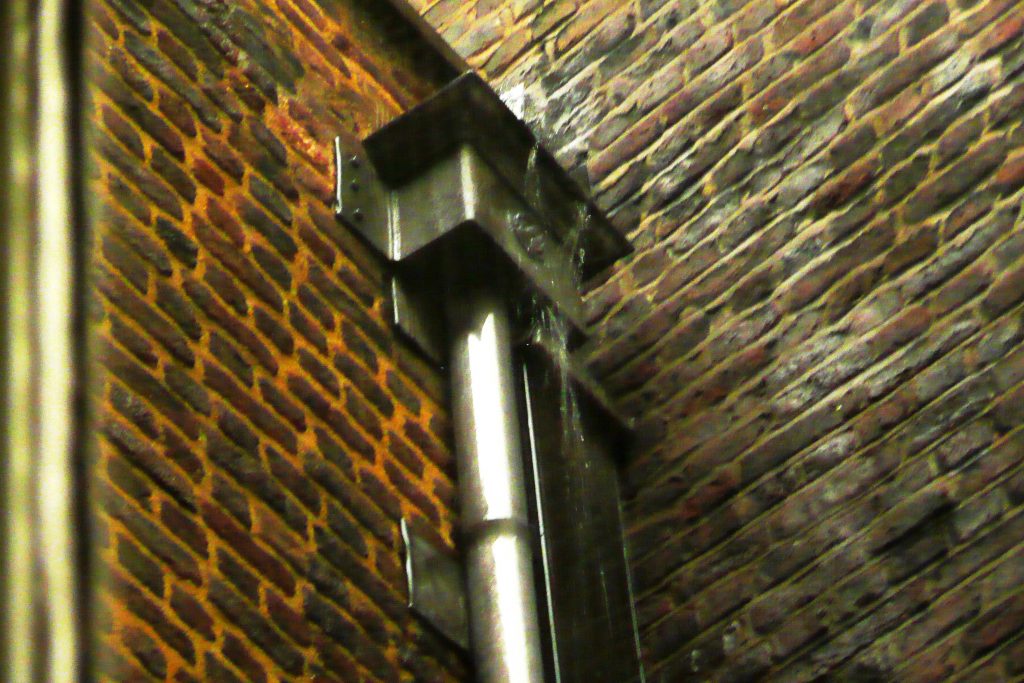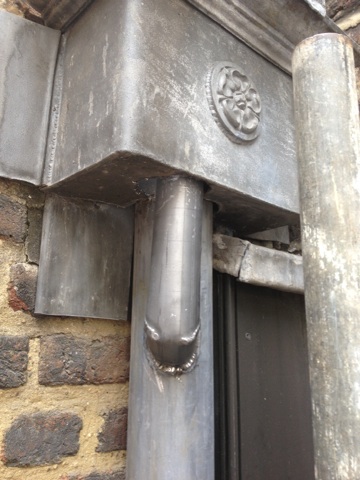 Due to poor design and lack of maintenance, water poured forty feet down over this hopper-head in heavy rain and penetrated the vault below the rear yard. A scaffold was erected to combine routine maintenance and alterations to the hopper-head. The lead worker devised a clever additional pipe and altered the chute hidden behind the hopper-head. New cast iron gutters of different profiles, together with all pipes, fittings etc. are readily available from various manufacturers. When replacing modern items as plastic hopper-heads, the use of traditional materials is recommended and can, look both interesting and tell a story.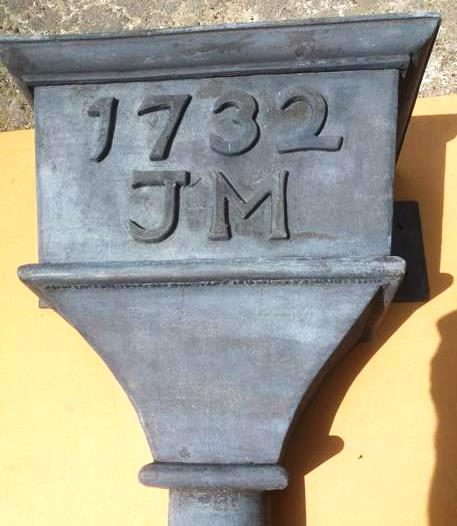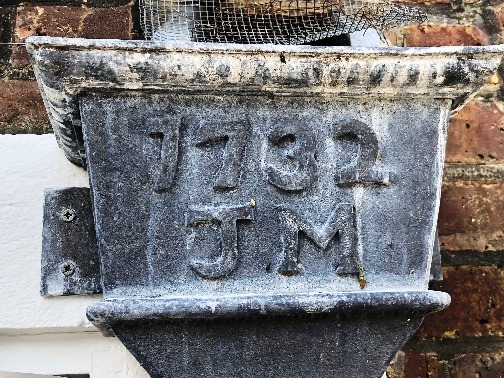 These new hopper-heads replaced worn plastic ones. The left-hand image is as made and the right-hand image 'distressed'. They tell a story: 1732 is the date the house, in Meard Street, was built and 'JM' refers to John Meard Jnr, who built Meard Street.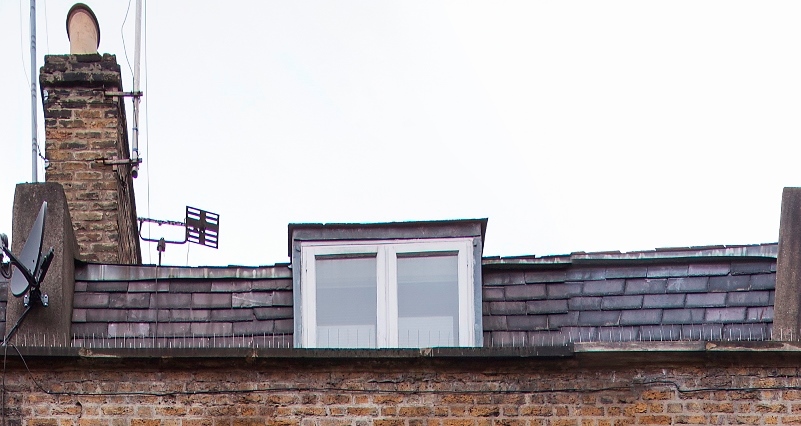 The architectural images in the Building by Building section can be enlarged to show details not readily visible from the street. This image of 44 Monmouth Street when blown up shows the lead on the roof hip has moved as have some tiles. Shown to the freeholder it demonstrated the reason for hitherto unexplained damp problems.
Walls
Take note of any areas of pointing which need attention. On old buildings repointing should be done with a lime/sand or lime/sand and cement mix, not with cement/sand mortar which is too hard and can damage the brickwork. The use of lime mix helps the bricks to 'breathe'. Brickwork repairs and pointing are definitely not a job for a 'handyman'. Professional brick pointers should be used as they will know the varieties of pointing. See the Brickwork section for an example of the correct approach – in this instance the work of the Whiter family, pointers for five generations, including for 10 Downing Street.
Doors and Windows
A detailed inspection for defects should ideally be made annually or at least as often as redecoration. External joinery should be regularly repainted to prevent rot and decay. This should be done at least every five years but with modern paints every three years is a more practical programme. Minor joinery repairs and replacement of loose putty in the windows should be done at the same time. Iron rainwater pipes and gutters or metal grilles will also require painting to prevent rust. See Doors and Windows.